Associate Professor, Computer Science; Director, Computer Science Graduate Program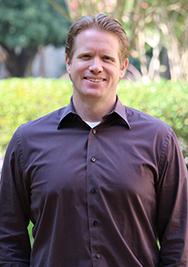 Education
Ph.D., Tufts University (2008)

MS, Bowling Green State University (2004)

BS, Bowling Green State University (2002)
Dr. G Michael Poor arrived at Baylor in the fall of 2012 as a member of the faculty in the Department of Computer Science.
Contact Info:
Email: Michael_Poor@baylor.edu
Phone: (254) 710-3037
Academic Specialization:
Human Computer Interaction
Baylor HCI:
The HCI Research Group is lead by Dr. Michael Poor. Baylor HCI researches Human-Computer Interaction.
Recent Classes
CSI 3344: Introduction to Algorithms
Research Focus
Dr. Poor's research interests focus on human‐computer interaction and the discipline concerned with the design, evaluation, and implementation of interactive computing systems for human use.