Graduate Online Program Manager, Department of Computer Science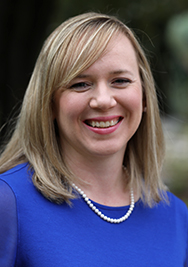 Education
Ph.D., Applied Mathematics, North Carolina State University (2011)
MS, Applied Mathematics, North Carolina State University (2008)
BS, Mathematics (minor in Computer Science) Baylor University (2006)
Contact Info
Email: Sharon_E_Moore@baylor.edu
Phone: (254) 710-6965
Dr. Sharon Moore is the Online Masters in Computer Science Program Director for the Department of Computer Science. She previously worked as a researcher in data science at Baylor University, where she modeled alcoholism and it's impacts on the body.
Before coming to Baylor University, she served as an Assistant Professor of Mathematics at Wofford College and at the University of Mary-Hardin Baylor.
Moore earned her doctoral degree from North Carolina State University and her bachelor's degree from Baylor University. Her research interests are in data science, mathematical modeling, and hybrid symbolic-numeric computation. Moore is excited to be working at her alma mater.
She and her husband, David, have two boys, Michael, 3, and Lucas, 1.
Experience
Research Scientist, Baylor University Computer Science Department (May 2016-Feb 2020)
Assistant Professor, University of Mary Hardin-Baylor Mathematics and Physics Department (Aug 2013-May 2016)
Assistant Professor, Wofford College Mathematics Department (Sept 2011-Aug 2013)
Selected Publications
Moore, E. Baker, K. Grant, S. Gonzales, E. Zollinger, and A. Radunskaya. Time for a Drink? A Mathematical Model of Non-Human Primate Alcohol Consumption. Frontiers in Applied Mathematics and Statistics. 2019 Feb 22. Vol. 5. https://doi.org/10.3389/fams.2019.00006.
Rivas, S. Moore, U. Iwaniec, R. Turner, K. Grant, and E. Baker. Optimizing Support Vector Machine Analysis in Low Density Biological Data Sets. IEEE, 2018 International Conference on Computational Science and Computational Intelligence (CSCI). Pre-print: https://www.rivas.ai/pdfs/rivas2018optimizing.pdf DOI 10.1109/CSCI.2018.00262.
Baker, N. Walter, A. Salo, P. Rivas, S. Moore, S. Gonzales, K. Grant. Identifying Future Drinkers: Behavioral Analysis of Monkeys Initiating Drinking to Intoxication is Predictive of Future Drinking Classification. Alcohol Clin Exp Res. 2017 Mar;41(3):626-636. doi: 10.1111/acer.13327. https://www.ncbi.nlm.nih.gov/pmc/articles/PMC5347908/.
Kose, S. Moore, C. Ofodile, A. Radunskaya, E. Swanson, E. Zollinger, Immuno-kinetics of immunotherapy: dosing with DCs. Letters in Biomathematics. Vol. 4. 2017. https://doi.org/10.1080/23737867.2017.1289129.
Hutton, Exact Sums-of-Squares Certificates in Numeric Algebraic Geometry, Aug. 2011.
Hutton, E. L. Kaltofen, and Lihong Zhi, Computing the radius of positive semidefiniteness of a multivariate real polynomial via a dual of Seidenberg's method, Proc. 2010 Internat. Symp. Symbolic Algebraic Comput. ISSAC 201., pages 227-234. URL: https://users.cs.duke.edu/~elk27/bibliography/10/HKZ10.pdf
Research Interests
Hybrid Symbolic-Numeric Computation
Mathematical Modeling
Data Science