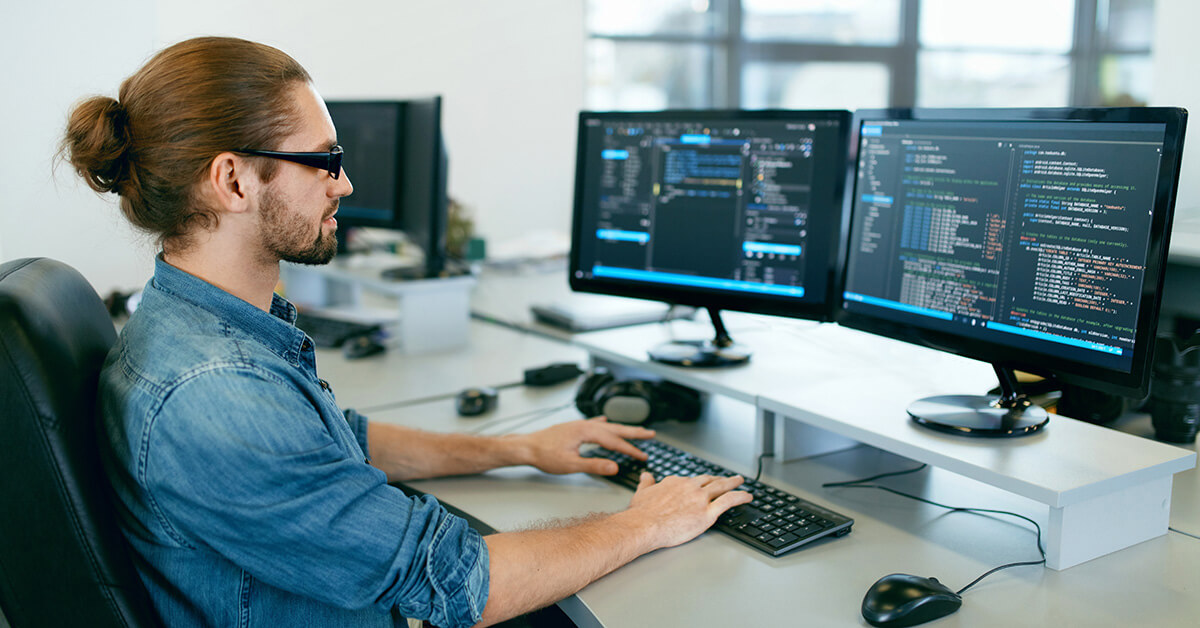 Artificial intelligence offers a multitude of solutions to the COVID-19 pandemic and other public health crises. Software, processes, and machinery using intelligent systems draw on data to expedite pandemic responses. Software engineers hold the keys to turning this technology into life-saving solutions.
A Narrative Science report found 95 percent of respondents viewed artificial intelligence as critical to improved data analysis. The flood of data created by public responses to COVID-19 can be managed using intelligent systems.
We can view how these tools help fight coronavirus in medical, government, and economic situations. These technological advances need to work in symphony with the talents and skills of users. No matter the application, it is helpful to keep this quote in mind from IBM executive Ginni Rometty: 
"Some people call this artificial intelligence, but the reality is this technology will enhance us. So instead of artificial intelligence, I think we'll augment our intelligence." 
Artificial Intelligence and Medical Community Responses
Hospitals and clinics sit on the frontlines in the world's pandemic response. Doctors and nurses make the most out of limited resources to help patients get back to good health. Technology can help these heroes save lives and halt the pandemic's progress.
In the course of a few months, software companies and innovators have developed intelligent tools in response to COVID-19. These stories provide templates for how to use advanced technology to help the medical community.
Diagnostic Tools with Artificial Intelligence
Healthcare providers need to separate COVID-19 from other illnesses before pursuing plans of care. The pandemic encouraged tech experts to experiment with tools to help medical professionals reach accurate diagnoses.
Maccabi Health Services in Israel converted a flu risk evaluation tool designed by Medial EarlySign to anticipate high-risk patients. Data including past health issues and vitals allow the provider to anticipate a potential patient's care needs. In one month, the system evaluated 2.4 million potential patients and expedited testing for 40,000 high-risk cases. 
Epic Systems mobilized its deterioration index tool ahead of schedule in response to the outbreak. This tool creates a score on a 100-point range based on lab tests, nursing evaluations, and vitals. Patients at the higher end of the scale receive escalated care and monitoring. 
This AI-enabled system was originally designed for a broad spectrum of diseases. Seth Hain of Epic Systems said the following about its rollout: 
"Our approach as Covid was ramping up over the last eight weeks has been to evaluate — does it look very similar to other respiratory illnesses from a machine learning perspective and can we pick up that rapid deterioration? What we found is yes, and the result has been that organizations are rapidly using this model in that context." 
Physicians at UC San Diego Health use AI-powered X-ray analysis to catch coronavirus cases before symptoms emerge. The tool from Amazon Web Services draws on lung X-rays and physician notes to predict the trajectory of pneumonia associated with the virus. Patient diagnosis remains in the doctors' hands, but several patients were treated prior to severe symptoms. 
Artificial Intelligence and Hospital Management
The previous examples show how intelligent technology helps patients at risk for COVID-19.
Hospitals also need administrative tools to train staff and triage cases. Mount Sinai Health System and the University of Chicago Medical Center show how these tools incorporate artificial intelligence.
Mount Sinai and Sana Labs developed Project Florence to provide online training for nurses. The project uses an AI-powered intake assessment that customizes training modules based on the user's experience level. Modules are updated regularly with new research and techniques to counter the pandemic.
Project Florence also adapts from module to module based on user success on assessments. In making the modules open to all hospitals, Sana Labs CEO Joel Hellermark said:
"Project Florence is designed to deliver personalized learning at scale and we look forward to making it available to every hospital in need of upskilling nurses for intensive care of critical COVID-19 patients." 
The University of Chicago Medical Center and AgileMD are updating the eCART system to help hospitals triage new patients. eCART previously used 30 variables to determine the level of care needed from a patient in an eight-hour window. A 100-variable version includes coronavirus symptoms to help hospitals manage staff time and resources. 
Artificial Intelligence and Vaccination Design
The average vaccination takes 10.7 years to evolve from early trials to the market. Vaccines are also not guaranteed to enter the market with only six percent reaching shelves over an 11-year period. Pharmaceutical companies and innovators are working to improve these numbers in response to the outbreak. 
Since January 2020, leading companies and researchers have sought to use intelligent processes in vaccine development. We see the components of vaccine research in examples like: 
Google DeepMind's protein structure prediction system
3D atomic-level evaluation of spike proteins by the University of Texas
Open Research Dataset of 44,000 research articles on similar illnesses from the Allen Institute for AI
Intelligent software and systems will be critical to identifying, treating, and reducing COVID-19 cases. With these tools in hand, doctors and nurses can focus on treating individuals rather than managing data.
Artificial Intelligence and Government Responses
By late April 2020, a third of the world's population was subject to lockdowns or restrictions due to coronavirus. Countries with the largest shares of population restricted by the outbreak included: 
India: 1.3 billion people
China: 760 million people
United States: 297 million people
Bangladesh: 165 million people
Russia: 142 million people
Local, state and national governments need the best data science tools to help these people during public health threats. Intelligent tools are currently being deployed to understand the pandemic's progress and develop responses. 
Using Artificial Intelligence to Evaluate Pandemic Trajectory
In the case of infectious disease, contact tracing those with symptoms is an essential process. This process — called contact tracing — allows public officials to evaluate the full scope of a disease's impact. 
MTX Group worked with a group of states early in the pandemic to implement contact tracing systems using artificial intelligence. The company developed a smart messaging system prior to the outbreak that proved scalable to this public health crisis. 
New Mexico uses the company's system to take data from testing centers and produce predictions about resource needs. State officials also evaluate predicted hotspots based on past testing data. MTX Group worked with Massachusetts and New York on a customizable version to handle unemployment and licensing claims. 
Spanish researchers are developing an app to inform real-time government decisions about the pandemic. The app combines public health rules with blockchain technology to enforce shelter-in-place orders. Data from app use plus the country's healthcare data are synthesized to evaluate the next steps from the government. 
Improving Agency Decisions with Artificial Intelligence
Local and state governments in the United States have created their own dashboards to manage COVID-19 data. Detroit's dashboard uses a heat map to show concentrations of confirmed cases. The city was also amongst the first to publish confirmed cases based on race, age, and gender. 
These dashboards are often updated daily and create simple images of the pandemic for public consumption. Companies like Quantela are working with governments to upgrade their dashboards with artificial intelligence. 
Quantela ensured a multitude of data inputs with the Coronavirus Emergency Response (CoVER) platform. The Field Officer App and Citizen App allow healthcare workers and residents alike to contribute local data on the disease. CoVER suggests testing and other resource allocations based on recent trends. 
Artificial Intelligence and the Pandemic Economy
The COVID-19 pandemic has exacted an economic toll as it spread to millions of people around the world. Statista's April 2020 report on the global economic impact include benchmarks like: 
A projected loss in the global gross domestic product (GDP) of 0.09% to 0.4%
A $76.69 billion loss in U.S. GDP in a best-case scenario
A record 2,997-point loss for the Dow Jones Industrial Average on March 16, 2020
In a pandemic, consumers are concerned about losing their jobs, paying rent, and protecting their families. Intelligent systems lead to efficient and inexpensive responses to these concerns. Two uses of this technology deal with everyday stress like panic buying and overwhelmed customer service departments. 
The U.S. Department of Defense developed its Salus tool to predict how panic buying impacts local resource availability. This intelligent tool was used initially to counter respirator and mask shortages at hospitals. Salus draws on retail data used by private-sector companies and could be used to protect against product shortages. 
Online purchases and customer service experiences are becoming the norm due to the pandemic. Google Cloud's Rapid Response Virtual Agent uses machine learning to customize responses based on common shipping and transaction issues. Any company can use the agent to reassure customers about its pandemic response. 
Artificial intelligence will be an invaluable business tool in the future. The pandemic provides avenues for testing intelligent technologies that ease economic concerns. 
Artificial Intelligence Needs After the Pandemic
The world will emerge from the current pandemic thanks to hard work and collective action. Your AI knowledge will still be an invaluable resource to solving global issues. Healthcare providers are only now realizing the full power of this technology to improve patient care. 
HIMSS Media interviewed 142 tech-minded hospital professionals about the technology's potential in healthcare. The survey showed the following areas where artificial intelligence is in use: 
Delivery of specialty care (63% of respondents agreed)
Delivery of remote health services (61% of respondents agreed)
Delivery of bedside services (44% of respondents agreed)
These numbers show potential growth areas for software engineers beyond the pandemic. You can focus on improving primary care and point-of-care services through smart systems. 
Respondents to the survey pinpointed areas where artificial intelligence could have the greatest impact. The most popular responses were long-term health issues like: 
Diabetes (66%)
Heart disease (63%)
Cancer (63%)
Neurological diseases (56%)
The pandemic will give way to other health concerns that can be mitigated by artificial intelligence. Forbes identified additional policy issues fixable by intelligent tools including: 
Wildlife conservation
Natural disaster anticipation and response
Legal and journalistic bias
Clean energy development
Universal language translation
No matter the field, knowledge of artificial intelligence will be marketable for the foreseeable future. An advanced degree plus a commitment to technology as a positive force can set you on the path to a fulfilling career. 
Getting Up to Speed on Artificial Intelligence
Data science and artificial intelligence are critical tools for fighting against disease outbreaks. As a software engineer, you can create programs that speed diagnoses, inform government action, and protect resources. 
Taking up these tasks requires a wealth of information and skills in computer science. A graduate degree in the field helps you not only deal with COVID-19 but future threats. Baylor University's Online Masters in Computer Science prepares you for these opportunities to shine. 
Learning Data Science at Baylor University
A Baylor degree stands out from the competition thanks to its long-standing reputation for excellence. U.S. News & World Report's 2020 rankings show why Baylor is right for you: 
No. 42 in Most Innovative Schools
No. 75 in Best Value Schools
No. 79 in National Universities
As a data science enthusiast, you know that one source is not enough to draw an accurate conclusion. Niche gave Baylor University an overall grade of A in 2020. Baylor also received stellar marks like: 
No. 105 in Top Private Universities in America
No. 120 in Colleges with the Best Academics in America
No. 142 in Best Colleges for Computer Science in America
The Software Engineering track trains students the entire software development life cycle. Courses in distributed systems development and advanced software engineering provide hands-on lessons. Experienced faculty members help you apply these lessons to real-world situations. 
MMC Ventures estimated a doubling of demand for AI experts from 2017 to 2019. There hasn't been a comparable growth in experts, placing you in prime position for a successful career. Your career taking on challenges like COVID-19 starts by reaching out to an enrollment advisor.