Partner, McCollum Capital LLC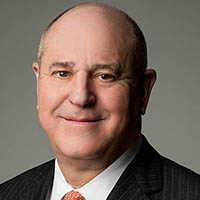 Mr. Mark McCollum is a partner at McCollum Capital LLC.
From 2017 to 2020, he was president and CEO for Weatherford International plc. Weatherford is one of the largest multinational oilfield service companies, providing innovative solutions, technology, and services to the oil and gas industry. The company operates in more than 80 countries and has a network of approximately 610 locations, including manufacturing, service, research and development, and training facilities and employs approximately 26,000 people.
Prior to joining Weatherford, Mr. McCollum served as executive vice president and chief financial officer for Halliburton from 2007 to 2017. He also served as senior vice president and chief accounting officer for Halliburton from 2003 to 2007.
Prior to joining Halliburton, Mr. McCollum served in various senior executive positions for Tenneco from 1995 through 2003. Before joining Tenneco, he spent 14 years with Arthur Andersen LLP and served as an audit and business advisory partner of the firm's worldwide partnership from 1991 through 1994.
Mr. McCollum serves on the board of directors for Westlake Chemical Corporation and Seadrill Limited. He is also a member of the board of trustees for Baylor College of Medicine, the board of directors of Baylor St. Luke's Medical Center, the board of directors for Yellowstone Academy and the advisory board of Every Village.
He earned a BBA in 1980 from Baylor University and is a certified public accountant in Texas.
He and his wife, Jennifer (BSEd '80), are members of First Baptist Church of Houston. Their children are Matthew (BBA '08), whose wife, Courtney, is also a Baylor graduate (BSEd '07), and Madeline. They also have four grandchildren: Audrey Kate, Leighton, Jackson, and Sloane.