Assistant Professor, Department of Computer Science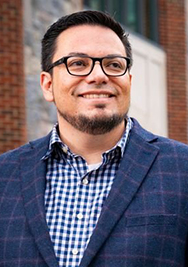 Education
Ph.D., Electrical and Computer Engineering, The University of Texas at El Paso (2011)
MS, Electrical Engineering, Chihuahua Institute of Technology (2006)
BS, Computer Science, Nogales Institute of Technology (2004)
Contact Info
Read Deep Learning for Beginners Article about Dr. Pablo Rivas
Research Interests
Responsible AI
Standards for AI Ethics
Deep Learning
Machine Learning
Artificial Intelligence
Fuzzy Systems
Recent Classes
CSI 5325 Introduction to Machine Learning
CSI 4352 Introduction to Data Mining
Research Focus
Efficient and fast learning algorithms
Multispectral data analysis for aerosol detection
Computer vision for general object recognition and facial recognition,
Natural language processing models for robust latent sentence representations
Experience
Director, Center for Standards and Ethics in Artificial Intelligence, NSF IUCRC (Planning), 2022-present
Assistant Professor of Computer Science, Baylor University, 2020-present
Assistant Professor of Computer Science, Marist College, 2015-2020
Post-Doctoral Research Scientist, Baylor University, 2012-2015
Graduate Research Intern, NASA Goddard Space Flight Center, 2009
Systems Integrator Engineer, TRW Automotive, 2000-2008
Dr. Pablo Rivas joins the Baylor family as an Assistant Professor of Computer Science. He moved to Waco from Marist College in Poughkeepsie, New York, where he was an Assistant Professor of Computer Science for five years. Rivas worked in the industry for a decade as a software engineer before becoming an academic. He is a senior member of the Institute of Electrical and Electronics Engineers (IEEE), the Associate for Computing Machinery (ACM), and Service Integration and Management (SIAM). He was formerly at NASA Goddard Space Flight Center and at Baylor University performing post-doctoral research and teaching.
Rivas is a deep learning evangelist, machine learning academic, and is a proponent of the democratization of machine learning and artificial intelligence in general. His research and teaching is on machine learning, including deep learning, theory and algorithms, and the societal implications of artificial intelligence. He obtained his PhD from The University of Texas at El Paso in 2011.
Other areas of interest include applied mathematics, numerical optimization, swarm intelligence optimization, evolutionary algorithms, soft computing, fuzzy logic, neural networks, and neurofuzzy systems.
Rivas and his wife, Nancy, are passionate about local missions, music, and travel; they look forward to starting a family in Waco.
Selected Publications
Pablo Rivas, Casimer DeCusatis, Matthew Oakley, Alex Antaki, Nicholas Blaskey, Steven LaFalce, Stephen Stone, "Machine Learning for DDoS Attack Classification Using Hive Plots," 2019 IEEE 10th Annual Ubiquitous Computing, Electronics & Mobile Communication Conference (UEMCON), 10/2019
Pablo Rivas, Ezequiel Rivas, Omar Velarde, Samuel Gonzalez, "Deep Sparse Autoencoders for American Sign Language Recognition using Depth Images.", 21st Int'l Conf on Artificial Intelligence (ICAI 2019), 8/2019.
Pablo Rivas, "Modeling Five Sentence Quality Representations by Finding Latent Spaces Produced with Deep Long Short-Memory Models.", Workshop on Widening NLP @ Association of Computational Linguistics (ACL) annual meeting, 7/2019.
Pamela J. Harper, John C. Cary, William S. Brown, Pablo Rivas, "Ethics under Pressure: A Study of the Effects of Gender, Religiosity, and Income under the Perception of Pressure " Journal of Leadership, Accountability and Ethics, vol. 16, no. 3, 7/2019.
Erich J. Baker, Nicole A.R. Walter, Alex Salo, Pablo Rivas, Sharon Moore, Steven Gonzales, Kathleen A. Grant "Identifying Future Drinkers: Behavioral Analysis of Monkeys Initiating Drinking to Intoxication is Predictive of Future Drinking Classification " in Alcoholism Clinical and Experimental Research, 2/2017.
Juan Cota-Ruiz Pablo Rivas, Ernesto Sifuentes, and Rafael Gonzalez-Landaeta "A Recursive Shortest Path Routing Algorithm with application for Wireless Sensor Network Localization" accepted for publication in IEEE Sensors Journal, 3/2016.
Pablo Rivas, Erich Baker, Greg Hamerly, and Bryan Shaw, "Detection of Leukocoria using a Soft Fusion of Expert Classifiers under Non-clinical Settings", vol. 14, no. 110, in BMC Ophthalmology. 9/2014.
Pablo Rivas, Juan Cota-Ruiz, Jose-Gerardo Rosiles, "A nonlinear least squares quasi-Newton strategy for LP-SVR hyper-parameters selection", in International Journal of Machine Learning and Cybernetics, vol. 5, no. 4, 8/2014.
Pablo Rivas, Juan Cota-Ruiz, Jose-Gerardo Rosiles, "Statistical and Neural Pattern Recognition Methods for Dust Aerosol Detection," in International Journal of Remote Sensing, vol. 34, no. 21, 4/2013.