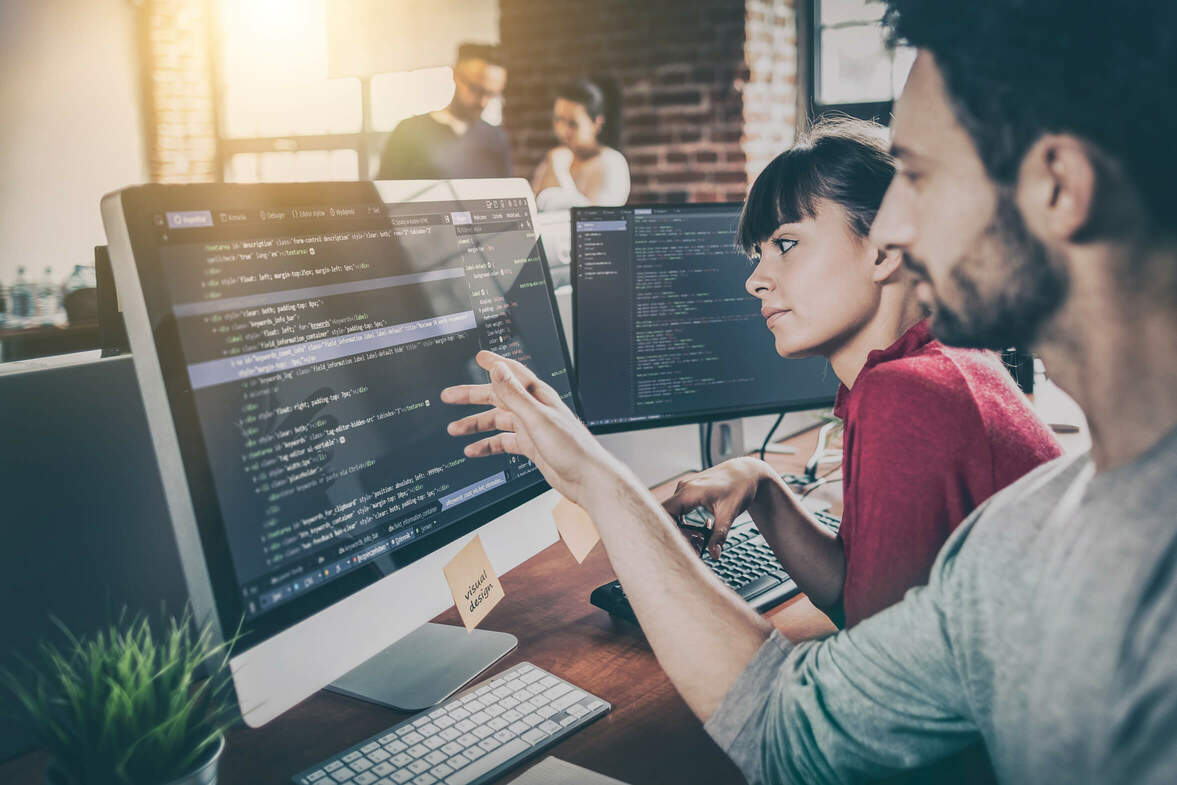 The future of global commerce, society, and intellectual development depends on people with computer science skills. Software engineers and Data Scientists shaped the world for the 4.32 billion people who accessed information from mobile phones in 2020. Billions more will need reliable systems for everything from banking to health services in the near future.
Enterprising STEM graduates want to know how to get a job in computer science. CompTIA found 3.9 million tech sector job listings in 2020 including 796,000 in emerging tech fields. The current demand for computer science skills makes advanced degrees a good investment.
Following Industry Demands for Computer Science Skills
Learning how to get a job in computer science starts by understanding the skills needed for tomorrow's challenges. Professionals with in-demand skills are well-situated when standards rise for future job openings. LinkedIn's study of the most in-demand technical skills by employers in all industries included the following computer science skills:
Blockchain
Cloud computing
Artificial intelligence
Indeed conducted a similar study in 2020, of the top 20 skills sought by today's employers. This report placed cloud computing and artificial intelligence as its top two entries. Mobile app development placed No. 6 on the list, providing another skillset to hone for computer science professionals.
The Bureau of Labor Statistics (BLS) placed two computer science careers among its top 20 fastest-growing professions for the next decade. Data science and information security analyst opportunities will each grow by an estimated 31% during that period. In each field, a graduate degree in computer science anticipates future employer expectations.
LinkedIn, Indeed, and BLS point to a broad increase in employer demand for computer science skills. CompTIA estimated a tech sector workforce of 12.4 million in 2021 with only 46% of the jobs at tech sector employers. Graduates with valuable skills can find work in places as varied as government agencies, design studios, and media outlets.
Computer Science Skills Necessary to Solve Common Problems
Constant changes in computing technology, software, and data usage create shifting grounds for professionals. Exceptional computer science skills and analytical thinking can steady the path toward project success.
Software engineers encounter some variation on the same challenges when they take on new projects. Covetus created a checklist useful for planning new software including the following obstacles:
Volatility of client requirements
Managing various iterations of the same software
Integrating software into third-party applications and protocols
Straying from best practices and budgets
The data science field relies on quality inputs and well-designed models to produce useful analysis. Data bias is a constant concern as flawed or skewed raw materials can damage a firm's reputation. A survey of 88 chief data scientists found 47% implemented bias mitigation efforts but 62% deemed the impacts of their efforts unclear.
Computer science professionals need the latest skills to navigate these challenges. Innovators with advanced skills know how to produce software that deftly maneuvers through the Covetus checklist. Data scientists entering today's job market can minimize bias without sacrificing the qualities of their models.
Quantifying the Impacts of Computer Science Skills
Data science and software development professionals are part of a key economic sector in the United States. The tech sector alone will produce $2 trillion in economic output in 2021, equalling 10.5% of the country's total output. Professionals with computer science skills are essential to corporate bottom lines.
Succeeding in a computer science job requires a blend of technical skills as well as business acumen. CompTIA comes to the following conclusion about this fusion of talents:
"While the IT department used to be a secluded support center within an organization, dealing with daily device troubleshooting etc., now it's strategic. The move toward digitization and the cloud has brought the role of IT front and center. The fact that IT pros are interacting much more with all lines of business, whether that's marketing, human resources or the front office, has only accentuated the need for professional skills."
The quickest way to build these skills is to complete an online masters in computer science. Top graduate programs infuse their courses with real-world case studies and challenges resulting in valuable portfolios. These experiences point computer science professionals toward the best career paths for their interests.
Finding the Right Computer Science Career Paths for You
Career paths within the computer science field change faster than other professions due to the pace of technological advancement. For example, data science in its current iteration only emerged from academic studies of statistics and data mining in the 1990s. To stay competitive, employers in the field need professionals with versatile computer science skills.
Selecting a Software Engineering Path in a Crowded Field
Decades of software development projects have led to clearly defined paths into the profession. Stack Overflow's 2020 survey found respondents identified as completing at least part of their work under the following titles:
Back-end developer (55.2%)
Full-stack developer (54.9%)
Front-end developer (37.1%)
Desktop or enterprise developer (23.9%)
Mobile developer (19.2%)
Forward-looking engineers and developers might look for other paths to start their careers. We can think about in-demand skills like blockchain and artificial intelligence as entry points into highly lucrative careers. Engineers in these emerging fields find opportunities unavailable in other careers to pioneer new products and techniques.
Anticipating the Evolution of Data Science
The past two decades have seen the integration of data science into fields ranging from sports to retail. Early-career data scientists find opportunities for growth outside of established paths. The best way to envision the future of data science is to look at skills needed right now by employers.
Anaconda surveyed 1,216 managers and executives with data science initiatives. Respondents placed the following skills as the most pressing areas of need for their organizations:
Big data management (39%)
Deep learning (31%)
Machine learning (25%)
Data science practitioners get ahead of the curve by learning these computer science skills. Participants in the Anaconda study also identified global problems that may reveal career openings. Aspiring data experts are motivated to address challenges like misinformation campaigns and policy responses to automation.
Former U.S. Chief Data Scientist DJ Patil rates passion and ingenuity as the two most important traits for data scientists. Patil offers the following advice useful for early-career data scientists building their careers: 
"You're working with ambiguity. And very often you can't approach the problem with the rigor you would a homework assignment. The only way to survive through that is by being clever—to think of a different question that gets at the answer."
Tips on How to Get a Job in Computer Science
Picking a path and building computer science skills are great starts to any engineering or data science career. No two employers in these fields are alike and set different expectations for every position. Successful computer science professionals follow a few basic steps as they progress through their careers.
The ongoing demand for technical skills means applicants may find multiple opportunities for work. Data scientists and engineers should envision what they want from their ideal employer. This exercise extends beyond salary and benefits to working style, product types, and advancement opportunities.
A standard resume or CV might be a basic requirement but hiring managers are looking for demonstrations of skill. Data scientists can post visualizations on personal websites, while software engineers can post code to GitHub. Building a portfolio through internships, freelance projects, and community volunteering opportunities speaks volumes about your skills.
Computer science fields thrive on collaboration and iteration. Newcomers should reach out to experienced professionals in their desired careers and industries. Communicating with potential future colleagues adds a dimension to your professional knowledge unavailable through other sources.
The Benefits of Computer Science Jobs
Learning how to get a job in computer science is easier with a clear idea of why you love your work. In-demand computer science jobs are far more lucrative than the average career thanks to highly technical skills. Software engineers and data scientists also find fulfillment because their work intersects with the thorniest issues in the world.
The BLS found a median annual income of $110,140 for software development professionals in 2020. A 2021 salary guide by Robert Half placed the average salary for a data scientist at $129,000. These salaries show the high return on investment for computer science graduates who pursue advanced degrees, such as an online masters in computer science.
Hired's 2021 State of Software Engineers report provides insight about the intrinsic rewards of computer science professions. The report made the following conclusion about how engineers stay motivated: 
"Most software engineers' primary motivation for learning a new programming language or framework is simply because they enjoy it. They specifically love the opportunities for new challenges and continuous learning."
Experian Chief Data Scientist Shanji Ziong has spent three decades connecting data science to real-world challenges. He offers the following motivation for his work that can be used to build a successful career:
"Be responsible with the data and realize the potential the data can have to solve problems. Always ask yourself how the data can be used to positively impact the lives around you, and use that to guide your design and development."
Software engineers and data scientists routinely rank in the top 10 of Glassdoor's 50 Best Jobs in America. Glassdoor combines average salaries and user reviews when assembling this list. The 2021 iteration placed data scientist in second place and software engineering in ninth place. 
Baylor University Builds Valuable Computer Science Skills
A graduate degree from a leading university opens the door for your preferred computer science career. Baylor University's Online Masters in Computer Science doesn't just teach you how to get a job in computer science; you learn how to build a lasting career.
This innovative degree is designed for future innovators with bachelor's degrees in related fields. You can apply to the university without GRE scores and don't need to spend time on campus. Faculty members with industry experience provide virtual classroom lessons that translate to global jobs.
Concentrations in data science and software engineering prepare candidates for high-growth fields. Every computer science student starts with six core courses in topics like:
Advanced Algorithms
Advanced Data Communications
Intro to Machine Learning
Baylor University's reputation amplifies the value of its online masters in computer science. U.S. News & World Report ranked the university No. 25 in its Most Innovative Schools of 2021. A No. 76 place in National Universities shows how well Baylor graduates fare in the job market.
Niche issued an A grade for Baylor University based on 12 criteria including an A for Academics and an A- for Value. The ranking site placed Baylor in the top 25% in several categories including:
No. 99 Top Private Universities in America
No. 117 in Colleges with the Best Academics in America
No. 137 in Best Colleges in America
Learn how Baylor University can prepare you for the challenges of the future by speaking with an expert Computer Science enrollment advisor today.