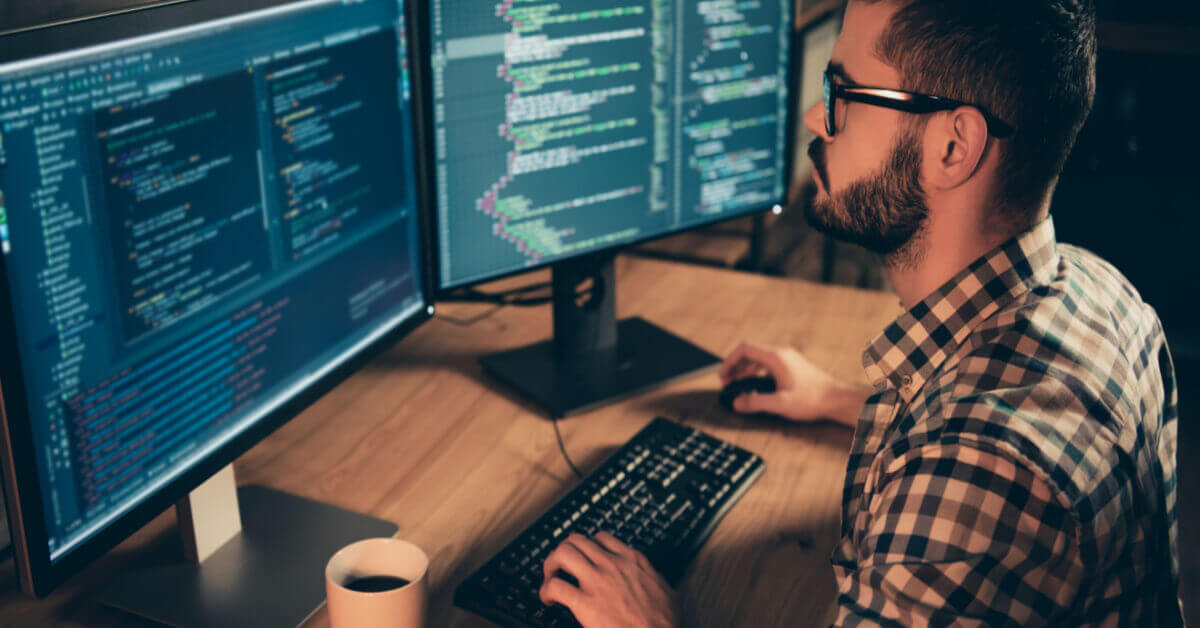 There's no better time to pursue a career in the software engineering industry. 
The future of software engineering is underpinned by the demands of an increasingly technology-based world. Companies spanning nearly every industry use software architectures to enhance digital capabilities, streamline operations, process data, and advance innovation to meet business objectives. 
Software engineers are in high demand because they are equipped with the necessary knowledge and skills to develop software solutions, conduct systems analysis, improve work processes, and communicate findings to teams. 
Learn more about Baylor University's Online Software Engineering Track
Will software engineers be needed in the future? 
Yes, the future of software engineering will be rife with emerging jobs, new technologies, and innovation that demand computer science experts with specializations in software engineering.
Read on to learn more about software engineering trends and why these in-demand professionals are experiencing such a bright career outlook. 
Are Software Engineers in Demand?
According to the U.S. Bureau of Labor Statistics (BLS), professionals working in the software engineering industry will see a 22% job outlook from 2020 through 2030. 
This job outlook is much faster than the national average of 8%. LinkedIn's 2020 Emerging Jobs Report found that more than 50% of the annual list comprised of roles related to engineering or development, with the emerging field of robotics appearing for the first time.
Jobs as a Robotics Engineer (40% annual growth), Full Stack Engineer (35% annual growth), Site Reliability Engineer (34% annual growth), Data Engineer (33% annual growth), Back End Developer (30% annual growth), Cloud Engineer (27% annual growth) all saw unprecedented expansion and landed in the top 15 according to the report. 
Software Engineering Industry Responsibilities, Jobs and Salary
The future of software engineering depends on the next generation of professionals willing to enroll in higher education, explore emerging jobs, and benefit from lucrative salary options. 
The job market is seeing a skill gap in software engineering. Forbes reports a shortage of software developers and approximately 920,000 unfilled I.T. positions in the U.S. in the last few years. As a result, annual graduates from coding boot camps, computer science programs, and software engineering tracks will have their pick in the job market.
Learn more about Baylor's Online Master of Computer Science - Software Engineering Track
Software Engineering Responsibilities
A software engineer is an expert in computer science responsible for developing I.T. systems by designing, developing, installing, and upkeeping software solutions. 
A few typical duties and responsibilities of a software engineer include:
Prepare and install software solutions 
Improve operations by conducting systems analysis
Recommend platform changes and new policies and procedures
Recommend, test, and approve new software products
Study cutting-edge technology and trending software solutions
Examine user data, solve software problems, and improve work processes regularly
Software Engineering Jobs
There are various career paths, certifications, and levels of education that allow professionals to work in the software engineering industry. 
Software engineers work in information technology (I.T.) consulting firms, I.T. research and development organizations, and businesses across industries, from healthcare and government to aviation and transportation.
According to a report by Hired, graduates from a software engineering focus can leverage their portfolio into roles with the highest growth rates, including: 
Back-end engineer: 58%
Full-stack: 57% (down 1%)
Front-end: 30% (down 2%)
Data: 9% (down 1%)
Mobile: 8% (same as 2020)
Machine learning: (4% down 2%)
Search: 2% (down 1%)
Security: 2% (same as 2020)
Natural language processing: 1% (down 1%)
Computer vision, gaming, embedded, AR/VR, blockchain engineer, and manager (1% with no change)
Learn more about Baylor's Online Master of Computer Science - Software Engineering Track
Software Engineering Salary
According to the BLS, professionals working in the software engineering industry earn a median annual salary of $110,140.
Indeed found that senior-level software engineers earn closer to $148,656 per year and see even higher salary options in locations such as San Francisco, CA, New York, NY, and Seattle, WA.
The 3 Top Trends In the Software Engineering Industry
In 2021, BCG identified three primary trends that will pilot the future of enterprise software architectures and demand new skills from software developers; customer needs, open-source innovation, and novel technologies. 
These three drivers will reinforce and accelerate each other and ultimately shape the future of software engineering.
Customer Demands Are Changing the Market 
In 2022, customers rule the market, and customer demands evolve faster than the market can keep up. Customers demand hyper-personalized recommendations, highly innovative products, seamless customer experiences (CX), and user experiences (UX), and they want it now. 
As a result, businesses enlist help from software engineers to optimize platforms on the back-end to provide simple, fast, and delightful CX and UX on the front end.
Applications are increasingly data-driven and reliant on new technologies like machine learning and AI-enabled algorithms to meet customer expectations. 
In response, software engineers are focused on optimizing applications across the web and mobile devices, enhancing connectivity, and phasing out legacy systems that cannot keep up. 
Learn more about Baylor's Online Master of Computer Science - Software Engineering Track
Open Innovation Levels the Playing Field
Open-source software embraces collaboration and involves open-source projects, products, and principles that allow for rapid prototyping, unparalleled transparency, community-based ways of working, and accessibility. Anyone can inspect, modify, and enhance source code within open-source software. 
As software engineers celebrate open source code, the industry is seeing the rise of open innovation. Unlike the open-source framework, closed-source software is more restrictive. It assigns a person, team, or organization exclusive control over the software (ex. Microsoft Office or Adobe Photoshop). 
The open model allows for speed, scale, and economic advantages that will enable agile startups to match, and even outpace, their Tech Giant competitors. 
Software engineers must learn how to operate within an open-source framework to keep up with the industry's future. The shift to open source enterprise platforms will help companies deliver better customer experiences and accommodate new technologies.
New Technologies Demand New Skills
New technologies like Artificial intelligence (A.I.), robotics, augmented reality (A.R.), virtual reality (V.R.), the Internet of Things (IoT), and expanding 5G networks can not operate effectively within old business models and outdated software architecture. 
As a result, software applications are changing to adapt to new technologies, and software engineers are scrambling to learn new programming languages. Enterprises are moving towards using monolithic cloud-based software architectures, platforms that act as a "super-computer" and live in the cloud across many different devices. 
New software brings new risks and knowledge gaps. For example, data privacy, big data security, and reducing risk in the cloud are all increasingly important areas for software engineers. 
Professionals working in computer science will be the first to navigate cutting-edge digital technologies, mitigate risk, solve problems and trial new ways of working. 
What Will the Future of Software Engineering Look Like?
The software development world will see continuing maturation over the next few years. 
Nearly every industry will require software developers, including organizations in healthcare, Fintech, e-commerce, and higher education. What will the software engineering industry look like in one, five, or even 30 years from today?
As the workforce continues to embrace remote work, organizations will upgrade their platforms to accommodate faster and more convenient digital experiences. Additionally, as customer demands evolve, products and services will become increasingly tied to better UX. 
Finally, the future of software engineering will rely on data privacy, transparent A.I. applications, and heightened security to protect data and assets. Engineers will be well-versed in the ethics of A.I. and understand risk and compliance regulations.
Overall, future software engineers must continuously adapt to the ever-changing digital world around them. Professionals with a computer science background and specialization in software engineering will have an advantage in the market.
Learn more about Baylor's Online Master of Computer Science - Software Engineering Track
Stand out with an online Masters in Computer Science - Software Engineering from Baylor University 
Baylor University's online Masters in Computer Science program accelerates career paths in this growing field. This 100% online graduate degree program integrates future-proofed skills with ethical decision-making to produce responsible innovators.
Students in Baylor's online Masters in Computer Science Software Engineering learn how engineering concepts apply to software projects. This option requires the following courses:
Advanced Object-Oriented Development
Advanced Software Engineering
Distributed Systems
Software Verification & Validation
Baylor University provides a great return on investment for computer science professionals looking for high career ceilings. In 2022, U.S. News & World Report ranked Baylor No. 75 of Best Universities in the Nation (top 5%), No. 34 among the Most Innovative Schools, and No. 82 Best Value Schools.
To learn more about Baylor's online M.S. in Computer Science Software Engineering degree, speak to an enrollment advisor today.